I'm Baker Manning. I'm a deckhand on Bravo's reality TV show Below Deck, and I'm also the creator of The Yacht Job Handbook Series, which gives potential crew insight about what it's really like to work on a yacht, and information and techniques to help increase their chances of getting a job as quickly as possible, and keeping it!
I created these courses and guides because I want to help you succeed! Teamwork makes the dream work! We're in this together. Consider me your coach, your cheerleader, your team captain; whatever floats your boat!
Check out my website BakerManning.com for more information and resources!

---
No matter where you start from, we all have to take the same general route and pass through the same waypoints and checkpoints to get from point A to Sea. It usually looks something like this:

1. GET INSPIRED
2. RELOCATE TO A YACHTING HUB
3. COMPLETE TRAINING
4. NETWORK
5. BEGIN DAY WORKING
6. INTERVIEW
7. GET HIRED
As with any journey, there's usually more than one way to arrive at your destination...
Some people like to take the most efficient way, and then there are people like me… Let's just say I took the "scenic route." If you follow my journey on the map from point A to Sea- it's easy to see that I swerved off course just about every step of the way.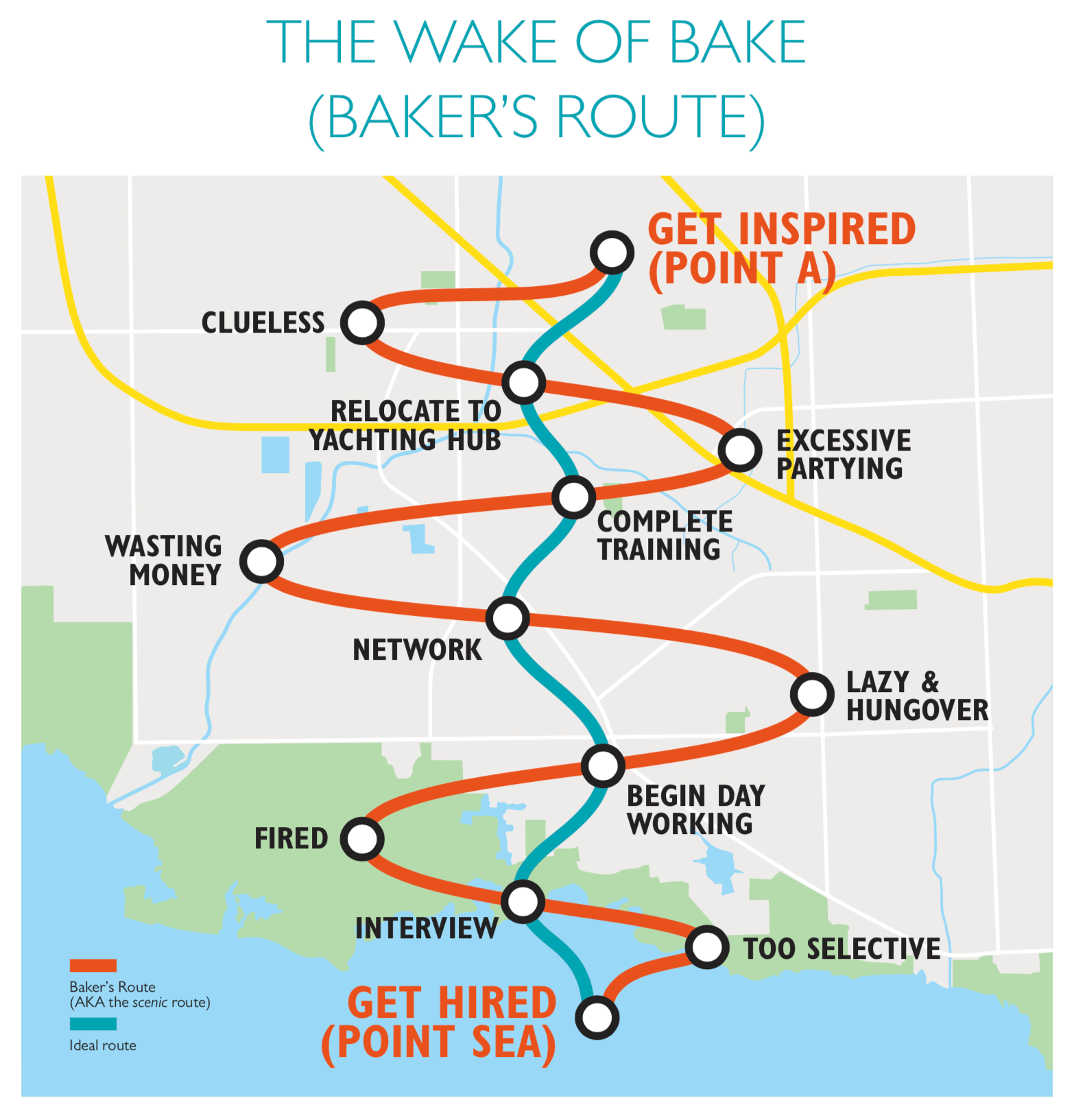 Although I did eventually reach my destination, I left a lot of mistakes in my wake. I could have saved myself a lot of time, effort, money, and embarrassment if I had been more strategic, and used the proper knowledge, tools, and techniques to propel me forward.
If you follow the steps in this guide, you can streamline your journey, and avoid taking the scenic route as I did.