I'm Baker Manning. I'm a deckhand on Bravo's reality TV show Below Deck, and I'm also the creator of The Yacht Job Handbook Series, which gives potential crew insight about what it's really like to work on a yacht, and information and techniques to help increase their chances of getting a job as quickly as possible, and keeping it!
I created these courses and guides because I want to help you succeed! Teamwork makes the dream work! We're in this together. Consider me your coach, your cheerleader, your team captain; whatever floats your boat!
Check out my website BakerManning.com for more information and resources!

---
My discovery of the yachting industry came at a perfect time in my life...
I was 25 years old, single, hungry for adventure, and ready for a new chapter in my life. I had been living and working abroad ever since I graduated college. Over those four years, I moved from South Carolina to Colorado, to Argentina, to California. I waited tables, taught English, learned Spanish, became a tour guide, and a fitness instructor.
Every new experience brought on a new positive transformation, and I wanted to continue that journey. My "thrill seeking/soul seeking" adventure was in full throttle, and I had no intention of slowing down anytime soon. While I enjoyed the "nomadic" lifestyle, I was ready for a little more structure, financial stability, and let's just say "discipline" in my life…
I was at a crossroads...
I was beginning to notice that many of my friends were settling down; getting "real jobs," and even getting married and having kids! As I got older, I felt like there was some growing pressure that I should be doing the same thing, but I knew I wasn't ready for that yet… (if ever!?)
On the other hand, I knew I wasn't using my skills and capabilities to the fullest potential. I needed a new challenge; something entirely foreign that I could immerse myself in.

That's when I discovered the yachting industry...
The personal growth and development I gained while living and working on a yacht surpassed all of my previous endeavors combined. I came into the wonderful world of yachting feeling capable and confident, thinking that I was pretty good at this whole "life" thing. However, I quickly learned that I had a LOT to learn about a LOT of stuff.
Back then I knew absolutely nothing about working on yachts...
But I was willing to do anything to make it happen...
A majority of aspiring yachties are in the same boat... We all have the same goal: to get a job on a yacht, but most of us have no clue how to get there.
No matter where you start from, we all have to take the same general route and pass through the same waypoints and checkpoints to get from point A to Sea. It usually looks something like this:
1. GET INSPIRED
2. RELOCATE TO A YACHTING HUB
3. COMPLETE TRAINING
4. NETWORK
5. BEGIN DAY WORKING
6. INTERVIEW
7. GET HIRED
As with any journey, there's usually more than one way to arrive at your destination...
Some people like to take the most efficient way, and then there are people like me… Let's just say I took the "scenic route." If you follow my journey on the map from point A to Sea- it's easy to see that I swerved off course just about every step of the way.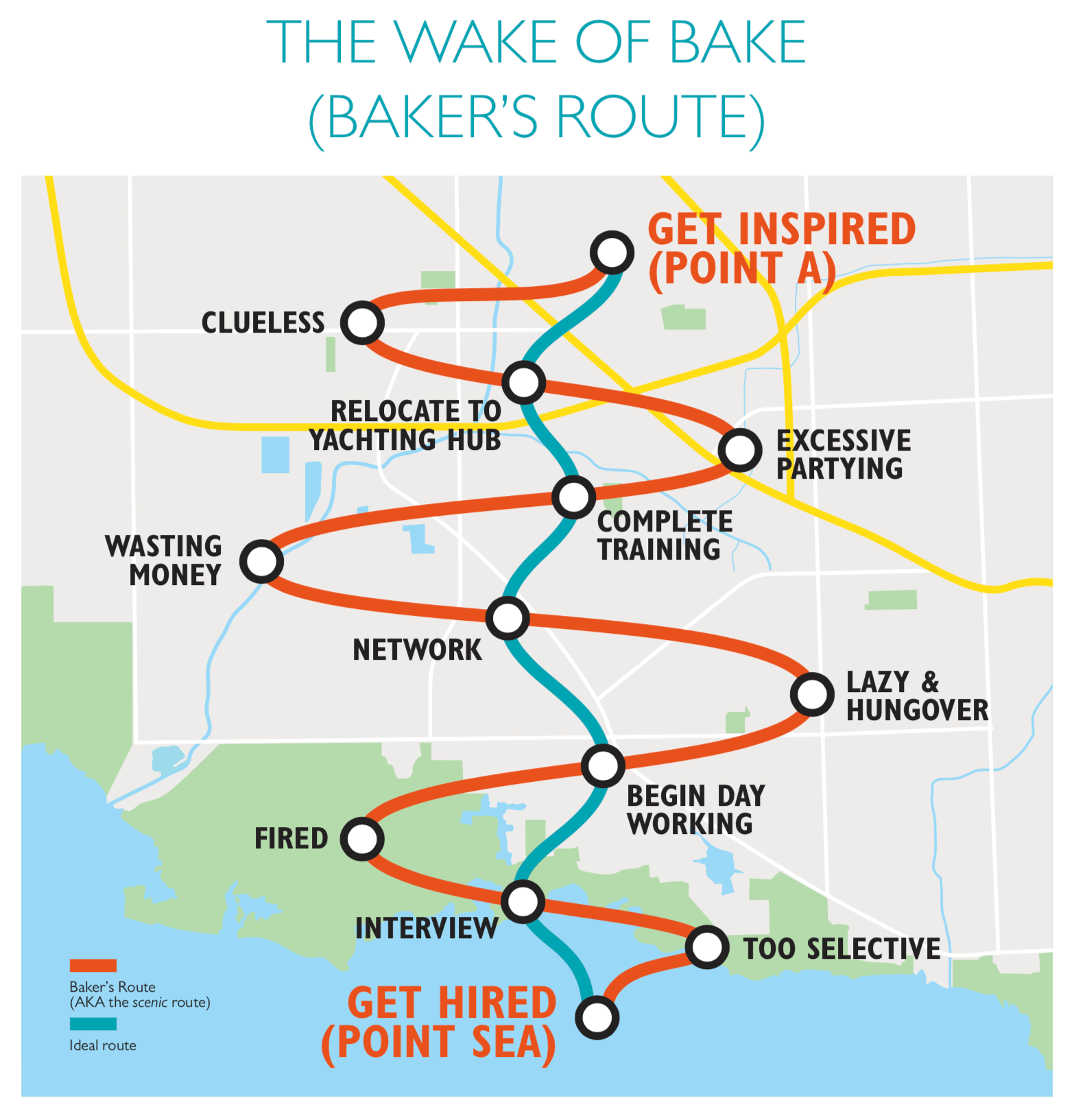 Although I did eventually reach my destination, I left a lot of mistakes in my wake. I could have saved myself a lot of time, effort, money, and embarrassment if I had been more strategic, and used the proper knowledge, tools, and techniques to propel me forward.
If you follow the steps in this guide, you can streamline your journey, and avoid taking the scenic route as I did.